Cheque/Check Printing Software (Free Download)
Cheques are widely used in modern day financial transaction. Cheque printing software is a computer program that can easily create and print beautiful checks simply by entering the desired data into the blank fields in the computer program. It has a feature like password protection, check preview, security system that reduces user error. This software enables secure, flexible, and cost effective solutions for cheque printing. This software is convient and error less. Companies dealing with more then one currency can easily handle its bank transaction by this software. It manages multiple bank accounts and multiple currencies. It maintain details against which payment are made. A login screen keeping unauthorized users out. Print single or multiple checks on customized bank layout. Have a report of cheque printed over a period of time. Cheque printing software has an ability to view original report data with formatting without the database. Cheque printing is very fast and cheap.
Below we show you how it works:
1) Currency Master:
This feature is specially for the companies dealing with more then one currency. Already 174 currency with their country and symbol are added. Just add the currency and rest of the things are handled by the cheque printing software.
2) Cheque Master:
You can add your bank cheque details by just drag and drop. You need to just drag and drop the fields like A/C Payee to the exact location where you want to print it. To help you do the perfect adjustment for your Bank cheques we have provided a grind line both horizontal and Vertical which can be dragged to the required position this grid line comes with the snap property. You can save your cheques with the currency (from Currency Master) in which the cheque is printed i.e. when you print the cheque it will automatically add the text with the amount like (Rupees One thousand and Fifty Paise only or Dollar One thousand and Cents Fifty only).
3) Print Cheque:
Steps to print a cheque:
a) First select the bank; accordingly the dimensions of the cheque details will be placed.
b) Enter the name of he payee, if the text is not fitting in the first box the remaining part will automatically filled the second box.
c) Enter the amount; it will automatically convert into numbers with the currency name and symbol.
Cheque Master (Define Your Cheque Structure)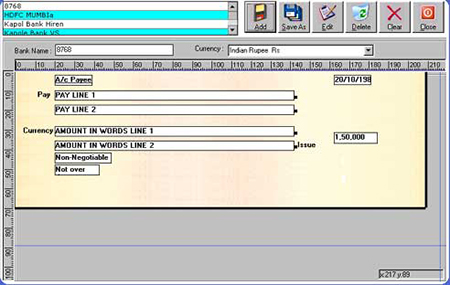 Currency Master (Select your Currency)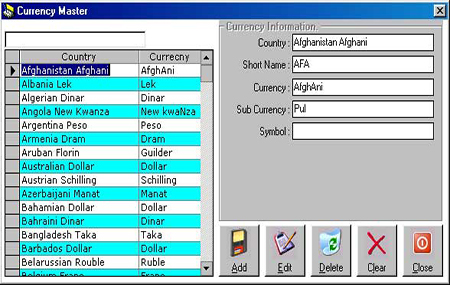 Payment (Issue and Print Cheque)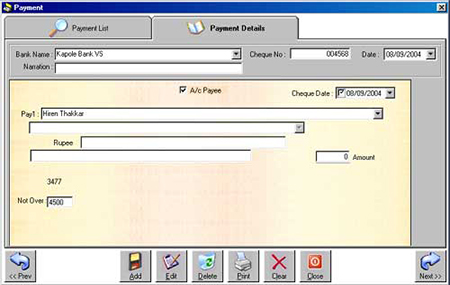 Software Development
Web Development